Medium sized carry Bag for your Denise kit, courtesy of Cat Bordhi: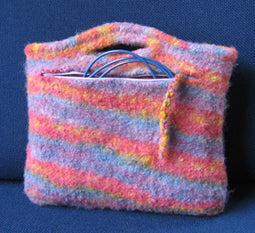 Store your Denise Interchangeable Needle Kit in this felted bag (and knit it with the kit as well!). Your long cords and extra accessories will fit inside the zippered pocket. There's three variations to choose from:Rainbow (pictured), Lemon, and Charcoal. Enjoy! Thanks Cat!
Small "bonne bouche" bag, courtesy of Barbara Kreuter:
This bonne bouche gives you a taste for the sophisticated fabric made with Tunisian crochet. Take a Denise Interchangeable Crochet Hook and only one skein of yarn, and in a few hours you will have a tasteful little bag to use for holding other small works in progress or as a small purse. The stitches you need are all demonstrated on videos listed here. A bonne bouche is a tasty morsel, often offered as an appetizer before the meal begins in earnest. Here's the pattern. Enjoy!
A 'Chainmaille' beret, courtesy of Jennifer Hansen:
Less than a skein and you're done! This luscious slouchy beret is worked from crown to brim with bulky yarn in circular Tunisian Crochet. Using a variety of Tunisian Crochet stitches, it is created using a double-ended crochet hook and two strands of yarn. The Chainmaille Beret also takes advantage of the Tunisian Diagonal stitch not only to create a highly textured fabric, but to easily make the spiral pattern in the body of the hat without any required shaping. Here's the pattern. Thanks Jen!
For more Tunisian specific patters, check out our Tunisian Crochet Central page!