Please read about our Manufacturer
My grandmother taught me to knit when I was a girl. In the late 1970's while living in Central California, I picked up some raw fleece and couldn't let it go. Spinning became a passion. The "uniqueness" of my early handspun yarn required a wide range of needle sizes. When I discovered Denise, I was thrilled to find all the needle sizes I needed in one compact and affordable kit. I bought one right away for myself, and told my mother-in-law about it too. My mother-in-law's set was eventually given to my daughter, Emily, who used it regularly until it disappeared during a college move. In early 2002, after over 20 years of happily using the Denise set, I went in search of some extra parts and a new set for Emily. I couldn't find any current listings for the Denise company, and I went back to old issues of Knitter's. I finally found an old ad and called the number listed. Lorraine Linstead answered the phone and told me that some parts were available, but they hadn't manufactured for several years, due to illness and getting up in years. At the end of our conversation, Lorraine said, "And if you know of anyone interested, the company is for sale." There I was in my mid-50s, a full-time high school teacher and avid knitter, never been in business before…but I couldn't get the idea out of my head. So step-by-step with a lot of encouragement from my fiber friends, four of whom had Denise kits, my husband and I decided to go for it. In August of 2002, we bought the company. I retired from teaching in December, and though I loved my job, I am thoroughly enjoying this process of reviving such a wonderful product and hearing every day from happy Denise knitters.
The Denise Interchangeable Knitting Needle kit is the invention of Lorraine and Robert Linstead, who manufactured and sold them for over two decades. Prior to developing Denise, they designed what is now called the Boye Needlemaster. However, the Linsteads were not satisfied with the design, particularly the problem of needles unscrewing and discoloring. They developed Denise Interchangeable Knitting Needles as an improved product with a unique locking system and light but strong plastic needles—a better kit for less money.
We are continuing in the Linstead's tradition of manufacturing a quality product at an affordable price. We are a family business. Emily, her husband Jon, and I take care of the daily operations and manufacturing details. My husband, Jim (a physician in his other life) advises on technical, financial and marketing matters, and my daughter Ellen adds her artistic and advisory talents. We are a company of knitters for knitters. We hope you enjoy your Denise Interchangeable Knitting Needles as much as we have. We'd love to hear from you.
Sincerely enjoying knitting and hope you are too, Linda Krag
RELAX… WE'RE
ALL HERE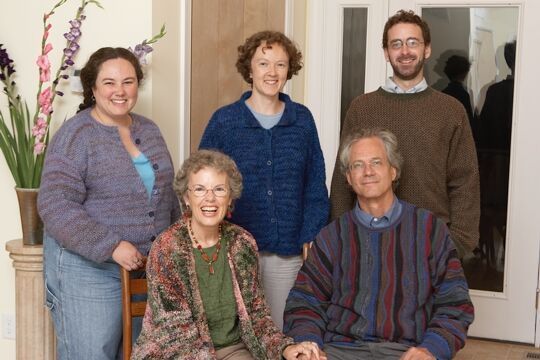 August, 2007 marked our fifth year with Denise. We celebrated with a balloon ride!